Our freelance, literary correspondent-in-the-field Julia Kudravetz submitted this blurb about tonight's reading. N.B. Emma will most likely be reading from her new novel manuscript, get a first listen tonight! Free, and with free wine and beer? Whatta homerun.
Emma Rathbone [ed: see her Nailgun interview here] reads tonight in the Bridge PAI Reading Series.  Emma's writing ranges from humor, to long-form reporting, to the novel.  She's written beautifully about South Africa, where she grew up, in the VQR and her first book, The Patterns of Paper Monsters, is incredibly funny and fun to read. There are rumors that she'll be reading tonight from her never-before-seen manuscript!
Also reading tonight is Sarah McCartt-Jackson, a folklorist and poet coming in from Louisville, where she works at the Kentucky Museum of Art and Craft.  They really do craft right in Kentucky, and poetry as well—read some of Sarah's poetry here. Or just come have it wash over your body as you drink free beer and wine from 7-8 P.M. at the Bridge. For more details on the series, click here.
Also tonight is the beginning of the 14th Annual Juneteenth Celebration at PVCC's V. Earl Dickinson Building (directions here) starting at 6pm and is free. Juneteenth–a celebration typically outside the ken of white americans–is a commemoration of the legal abolition of slavery in the United States. PVCC hosts this two-day event, which includes a rad-looking talk tomorrow entitled "The Racial and Ethnic History of Charlottesville," by Charlene Green. This year's Juneteenth events will be even more poignant due to the May 28th passing of the great Dr. Maya Angelou. There will be a tribute to her as the last event in tonight's line-up, done again at 3pm tomorrow. Here are the details, taken from PVCC's website (bold emphasis mine):
Dating back to 1865, Juneteenth is the oldest known celebration of the ending of slavery.  In recent years, Juneteenth has enjoyed a growing interest from communities and organizations across the nation. Virginia is one of 30 states officially observing Juneteenth.
The celebration begins at 6 p.m. on Friday, June 20, with a Tribute to the Ancestors featuring drumming and musical and spoken-word performances. The tribute will take place in front of the V. Earl Dickinson Building on the main campus of PVCC. Participants are encouraged to wear white or African clothing for this event.
Following the tribute, attendees are invited to participate in Black Heritage Brain Quest, a friendly competition to challenge your knowledge of African-American heritage. Closing out Friday's activities will be a dramatic spoken word tribute to Dr. Maya Angelou, who passed away May 28. A reception follows. The spoken word performance will be presented again at 3:30 p.m. on Saturday, June 21, in the V. Earl Dickinson Building.
Also on Saturday from 11 a.m. until 3 p.m. there will be activities in and around the Dickinson Building. Members of the community are invited to a storytelling and community art project presented by Page Hill, community activist and artist, a presentation of "The Racial and Ethnic History of Charlottesville," by Charlene Green, human rights community outreach specialist and local history exhibits by the Afro-American Historical and Genealogical Society. Vendors will sell food and handmade crafts. Bring your own picnic or purchase food on site and plan to spend the day. A closing program concludes the weekend celebration at 2:30 p.m. in the Maxwell Theatre (Black Box) in the Dickinson Building.
Juneteenth programs are designed to provide unique and enriching learning experiences for the whole family, including authentic historical reenactments of plantation life and hands-on activities for children.
Last, but certainly not least, a solid indie music line-up at Tea Bazaar. Below is the rundown from Nailgun/Local music indie impresario Amanda Laskey, via Tea Bazaar's
Hold My Ticket site
: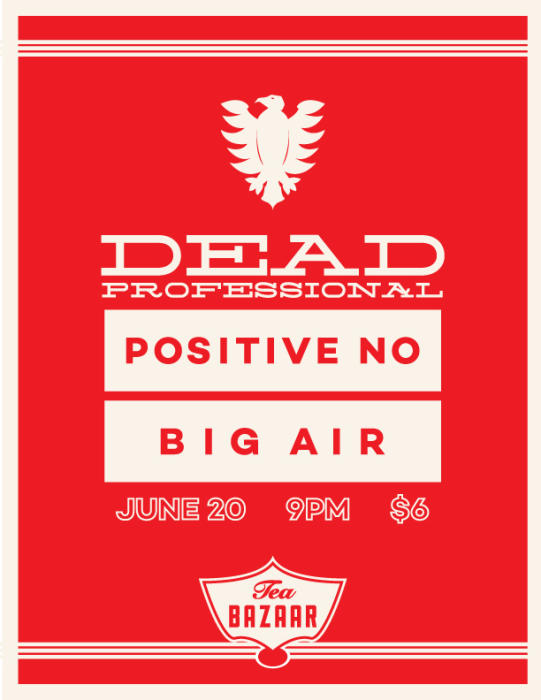 Dead Professional — New project of John Harouff from the Cinnamon Band. "Strips classic rock and roll and new wave pop down to their barest elements. The concise song-craft walks the line between cool revivalism and warm bittersweet pop." -The Mad Mackerel
Richmond's Positive No may have a confounding combination of styles as their song writing background but together they create melodic, fuzzy, dream-pop with the right balance of tension and energy; taking cues from The Breeders, Helium, & the Wedding Present. A debut 5 song EP entitled Via Florum was released on Little Black Cloud Records (digital and 12″) and recorded in 2013 at Magpie Cage with J Robbins (Jawbox / Burning Airlines / Office of Future Plans). The band is comprised of songwriters, Kenneth Close & Tracy Wilson (Dahlia Seed/Ringfinger) and rounded out by a rhythm section featuring Willis Thompson (Thao with the Get Down Stay Down) and Andre Phillips (Fulflej).
Big Air 2 man rock factory currently blowing it up.