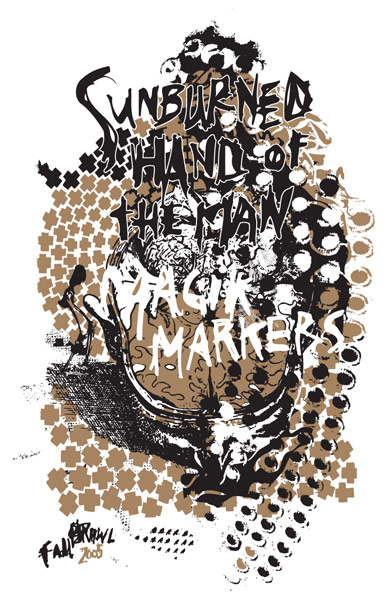 Tomorrow (Tuesday, September 13) Sunburned Hand of the Man, Magik Markers, Animental, and Grand Banks will be playing at the DUST Warehouse. Here's some more info from the T-Rock newsletter:
Show will begin promptly 10 pm …please show up early to mingle
$6 cover
BYOB
There are rumours that vegan pancakes and venison pizza may
be sold for refreshments…really
Information about the performers:
*Magik Markers (Tiny Mix Tapes says: "Magik Markers are the real
deal. I Trust My Guitar, Etc, the band's first official release after
a string of often brilliant CDRs, is a 'primitive' masterwork akin to
Half Japanese's ½ Gentlemen Not Beasts. Lead singer/lone guitarist
Elisa Ambrigio assaults her guitar in a style that she likens to a
woman masturbating, while singing like she's being chased through the
Bronx by a pack of police dogs. Elisa is accompanied by Pete Nolan's
power drumming and Lea Quimby's low-tuned bass." Oh and Sonic Youth
handpicked them to go on tour with them.)
*Sunburned Hand of the Man (Experimental ensemble from New England.
Pitchforkmedia says: "Stravinsky himself would be proud of this
unadulterated use of rhythm and beat, augmented by loud hypnotic
chords pulsing from a variety of instruments, ultimately falling prey
to the screams and whoops that herald its necessary finale. Acting as
a subtle trend in the album, the sense of prevalent necessity from
song to song further merits one of the superior critiques that can be
lauded upon a work of art, the discrimination of timelessness." These
unlikely critical darlings wound up on the cover of Wire.)
*Animental (Animental is a tale that takes place in a magical forest.
It is a dream where animal purity and instinct meets the immorality
and corruption of man. It is both an old-timey story and future myth
told through a multimedia performance.
*Grand Banks (you know 'em! <3 )
Sunburned Hand of the Man mp3s: Couldn't find any. You'll just have to go to the show and listen. But, here's a interview from Tiny Mix Tapes.
Magik Markers mp3s:
"To Catch a Gremlin (F U Dude, seriously)"
"My Sweet"
Still not sure what to expect? Check out the Sunburned Hand of the Man/Magic Markers Tour Page for many awesome videos.